2020 Ford Fusion
vs 2020 Honda Accord
Compare the 2020 Ford Fusion and the 2020 Honda Accord Sedans
If you're in the market for a traditional sedan with sporty accents and a reliable reputation, you've probably stumbled across both the Ford Fusion and the Honda Accord. Both models have distinguished themselves as class-toppers for many years, but what makes them different? More importantly, how do you decide on one over the other? Start exploring what makes the 2020 Ford Fusion stand out from its competitors, especially 2020 Honda Accord, today with your local Fritts Ford dealership in Riverside, CA.

Then, feel free to start exploring our beautiful inventory of the illustrious 2020 Ford Fusion.
Engine Options and Fuel Economy
The standard gasoline engine configuration is very similar in both the Ford Fusion and the Honda Accord. Both are equipped with a comparable 1.5-liter turbocharged engine that churns out just under 200-horsepower. However, the Honda Accord features a continuously variable transmission (CVT), which is not the preferred option by many drivers who want sporty shifts that put them in control. The Ford Fusion features a standard six-speed automatic transmission, which many California drivers like, especially in city situations. It's also worth noting that both the Honda Accord and the Ford Fusion feature a hybrid option, but Ford takes it a step further by offering a plug-in hybrid model. This model offers a combined 33-miles-per-kilowatt and also features an all-electric range of 26-miles.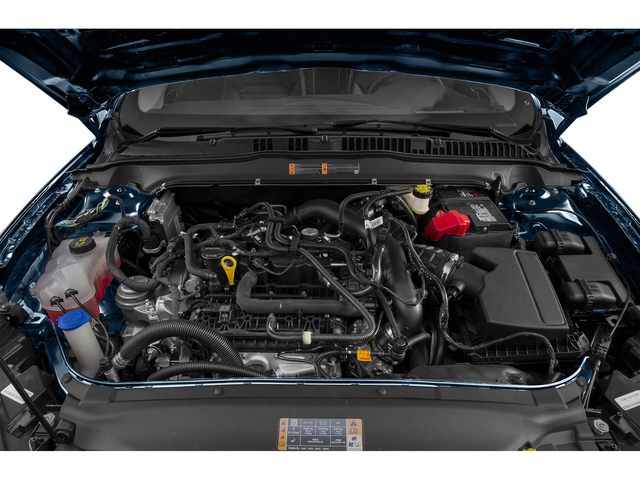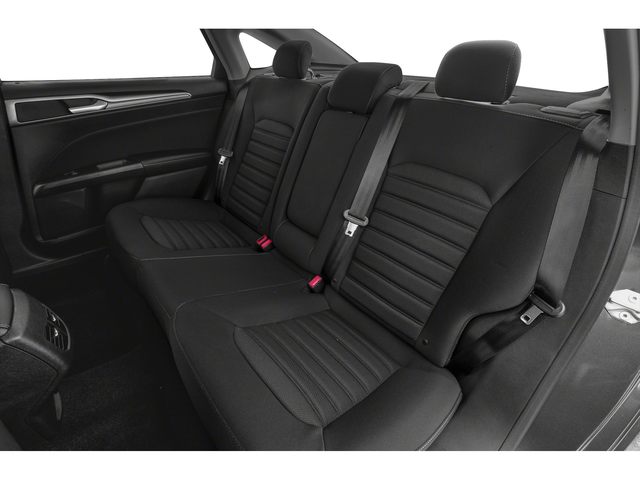 Interior Space and Storage
On the inside, the Ford Fusion and the Honda Accord are similar in size and shape. You'll find a comparable rear legroom measurement, and both feature just over 16-cubic-feet of cargo space, which is generous for a small sedan. However, upon further inspection, the Ford Fusion offers extra inches in terms of front legroom, rear headroom, and rear shoulder room. This means more space for your backseat passengers to enjoy.
The body of the 2020 Ford Fusion as a whole is smaller than that of the Honda Accord. A few inches have been shaved off in length and width, making this model just that much easier to slide into a tight parking spot downtown or parallel parking spot in your neighborhood. These perks may seem insignificant at first, but they make all the difference in your day to day driving life.

Technology and Safety Features
Neither sedan features an extensive standard suite of technology features, however, a simple package add-on for the Ford Fusion, and you can have everything you've ever wanted at one flat-rate price. For example, when you opt for SYNC® 3, you'll get two 4.2-inch LCDs in your instrument cluster, an eight-inch touchscreen at your center console, two temperature zones, and more. The Honda Accord means numerous upgrades to get the full suite. Find exciting active safety features in the Ford Fusion with the Ford Co-Pilot360™ suite of driver's assistance features. This includes options like blind-spot assistance, a backup camera, and other collision mitigation systems. You'll find a comparable system in the Honda Accord, but there's nothing like the reliability of a Ford.
Start Shopping for a Ford Fusion with Fritts Ford Today
Interested in making the impressive 2020 Ford Fusion the newest addition to your driveway? We don't blame you. If you've decided you can't live without it, give us a call today to schedule a test drive with one of the models in our new inventory. We have a variety of trim levels and engine configurations for you to choose from to ensure you drive away in the model that really suits your lifestyle around Riverside, CA. We can't wait for you to experience the excellence of the 2020 Ford Fusion for yourself with the experts here at Fritts Ford.

Hours
Monday

9:00 AM - 8:00 PM

Tuesday

9:00 AM - 8:00 PM

Wednesday

9:00 AM - 8:00 PM

Thursday

9:00 AM - 8:00 PM

Friday

9:00 AM - 8:00 PM

Saturday

9:00 AM - 8:00 PM

Sunday

10:00 AM - 8:00 PM